What Are The Common Ways To Increase Instagram Engagement In The Year 2021
When we are talking about digital marketing solutions, Instagram plays an enormous role. Social media marketing companies rely a lot on this digital tool. For some, it may be only a place to upload photos and feel connected with others with the count of the number of likes and shares.
However, for business professionals, it is a potent marketing tool. With all its features, it can help immensely in brand building. Look out for the Best Digital Marketing Company in Delhi and apply the tricks and turns of increasing your Instagram engagement in the year 2021.
Here are some simple ways to increase your engagements on Instagram. First, you need to understand that Instagram engagement means more than your views or followers. It includes metrics such as comments, shares, likes, saves, hashtags, click-through, followers and growths, mentions, and DMs. These actions on your posts display that your audiences are interested and indulge in your brand's post engagements.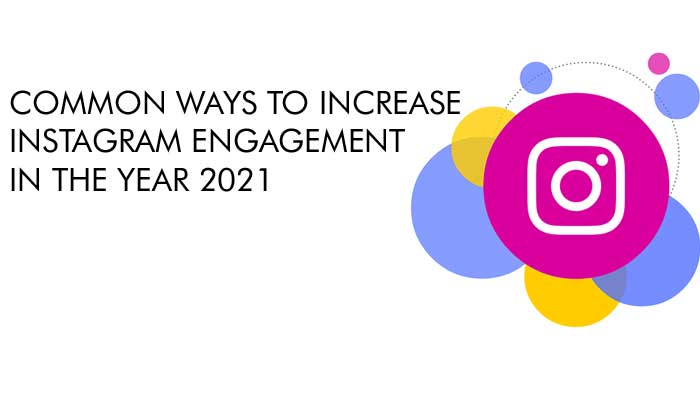 Know your audience
When you are posting content that does not resonate with your audience, engagements can prove to be hard. Use the demographics to know your target audiences. That way, you will get to design your next content better and attractive.
Authenticity is important
When the content is too professional and not relatable to the audience, the appeal might be lost. Produce content that shows the real story behind the brand and make your audience comfortable with the feel of friendly appeal.
Share images that take on instant attention
Instagram is totally about visualization. The more you share pictures that are great to the eyes, the more your audience gets engaged.
Carousels create quite a stir.
Social media marketing companies have discovered that carousels appeal more than just good images. The engagements recorded are 3.1 times more than regular content.
Post video content
Video contents stir 38% more post engagements in comparison with other content. Videos pick audiences at a real fast speed. Post videos that are appealing and are unavoidable to your target audiences.
Write captions that just hit the cord.
Captions play an essential role in Instagram posts. With a capacity of 2200 characters and up to 30 hashtags, writing strong Instagram captions can be the answer to your search for increasing engagements.
Recordable contents are more approachable.
Post contents that can be saved by the users. They must be relatable and kind of reference material to your brand. That way, they get to know your brand better, and you get your instant engagement.
Go live
To build engagement, going live with Instagram live will connect you directly to your target audiences. Live streaming is much more engaging than any textual content. Share news or simply show your gratitude to your supporters in your live sessions.
Compelling content can always be the king.
Innovate content is always far better than the regular content that only displays your product information and will stop being appealing after some time. Break the monotony with some contests, quizzes, online games, or polls to create more engagements.
Share contents owned by your audience
Sharing your target audiences' content relatable to your brand will make you more reliable and friendly to approach. The audiences will find themselves more connected to your brand.
Custom stickers and filters play a role too.
Creating custom stickers and filters to promote your brand works perfectly in brand engagements. Use your brand's stickers and filters on others' posts to create a mark.
Make it a point to reply to every comment and query.
Audiences, when comment or ask a question, do not leave them unanswered. That will create an impression of ignorance and carelessness. Reply to every one of them to show your dedication to your work.
Explore and experiment
Social media is where you will find no hard and fast rules on what works and what does not. Keep experimenting and be creative with your content. That is the only way to know what works for your brand and whatnot.
Regular posts with strategic timings
The inflow of posts must be regular to keep creating opportunities for engagements. Find out the best timings for your posts for better results. Good post at the wrong time might leave you with below the expected results.
Pull traffic from other sources.
Do not limit yourself only to one social media platform. Pull your audiences from other sources like Twitter, your email newsletter, and others. More the peers, more are the possibilities.
Join the conversation
Replying back might not be enough; sometimes, you need to start your own conversations to keep the party going. Engage your potential customers in your own generated conversation or engage yourself with others' conversations; the motto is to keep the flow.
Create the content on trending stories
Follow the trending stories and instantly create news content on them. Trending news always holds the users' attention.
Stay active on Instagram Stories.
Actively engage in Instagram stories to connect with half a billion users every day. Instagram stories are excessively indulged by the users and are an excellent place to connect with your target audience.
Add Powerful Calls To Action
A call to action that is griping creates quick audience engagements. Direct your users to an easy path to take action and provide them with careful guidance on how to get your products.
Employ the power of hashtags
Hashtags have the power to create a storm of engagements on your posts. Hashtags are already a trending thing in itself. Use the relevant hashtags to attract more users.
Post boosting
Nothing can be more straightforward and practical than post boosting and Instagram ads. Use them to show off your products to billions of Instagram users and receive more gazes from them.
Get engaged with DMs.
Direct messages can prove to be significant engagements with your potential audiences. The Best Digital Marketing Company in Delhi would suggest to you correctly that one-to-one conversations are always more effective than addressing a mass.